---
Jantar Mantar
---
Situated at Connaught Place area of New Delhi, Jantar Mantar is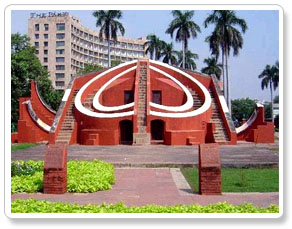 one of the five observatories built by Maharaja Sawai Jai Singh II, the ruler and founder of Jaipur, in India. Smaller than the one at Jaipur, it is still astonishing because of its capability to make accurate calculations of many astronomical movements. Constructed in 1724, the giant abstract masonry instruments of Jantar Mantar are the evident of the technological genius of the times in the field of astronomy. Jai Singh was a keen astronomer and a noble in the Mughal court.

He was dissatisfied by the brass and metal astronomical instruments and decided to correct and update the astronomical records with more accurate instruments. He built five Jantar Mantars in India, located at Delhi, Jaipur, Varanasi, Ujjain and Mathura. Jantar Mantar of New Delhi was built with a view to help the practicing astronomers in observing the movements of the Sun, Moon and all other planets. The relevance of this science would then be introduced to the general public.

The Sun dial here dominates the par and is also known as the Samrat Yantra or Brihat Samrat yantra - the huge sundial. A striking structure in yellow on the right side, it has a 27m high arm adjusted at an angle of 27 degrees. The other yantras in this observatory are used to observe the various stars and planets. The Mishra Yantra helps to determine the longest and shortest days in the year. In December, one pillar overshadows the other and in June, it does not cast any shadow at all.

When compared to others, this observatory is the largest and the best preserved today. But, after its erection in 1724, it remained functional only for seven years. Observations made each day were noted down and later a chart called Zij Muhammad Shahi was prepared. This was then dedicated to the reigning monarch. Many experts in this field are of the view that these observatories fell into disuse, because of lack of thought on the part of the king. The original name Yantra (instrument) mantra (formula) has been corrupted to Jantar Mantar.