Agra Taj Mahal Tours

Delhi Agra Jaipur Pushkar Camel Fair

Delhi Agra Jaipur Tour

Delhi Agra Jaipur Varanasi Tours

Golden Triangle Camel Safari Tours

Golden Triangle Corbett Tiger Tours

Golden Triangle Kerala Backwater

Golden Triangle North India Heritage

Golden Triangle Rajasthan Cultural

Attraction in Agra
»
Itmad Uldaula
»
Taj Mahal Agra

Attraction in Jaipur
»
City Palace
»
Hawa Mahal

Attraction in Delhi
»
Jantar Mantar
»
Red Fort
---
Khajuraho Tourist Guide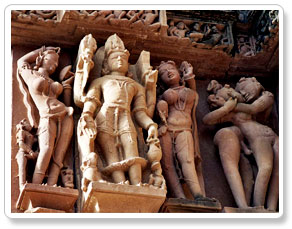 Khajuraho is a small town located in the Bundelkhand region (Chhatarpur District) of Madhya Pradesh and is famous for various groups of Hindu and Jain temples. These temples are a UNESCO World Heritage Site for their beautiful and erotic rock carvings. The art of khajuraho India attracts numerous visitors to it. The khajuraho temples depicting the erotic feelings and the Kama (pleasure) mudras (positions in the architectures) of the entire temple complex including the main building, walls, panels and corridors. Built by the Chandela rulers of that time, theses unique temples are the most important tourist destinations in the art and culture tour of India.

Places to see in Khajuraho :
At a point of time in history there were 85 temples, but only 20 have survived the ravages of time. The temples are made of sandstone blocks fitted together and are aligned east west. For convenience, these may be divided into western, eastern, and southern groups of temples. There are many temples as, The Kandariya Mahadeo, The Lakshmana Temple, Chaunsat Yogini, The temple of Parsvanath, temple of Ghantai and the temple of Duladeo, which amuse and excite the visitors.

How to reach :
By Air - A daily Boeing 737 of Alliance Air links khajuraho with Delhi, Agra, and Varanasi.

By Rail - The nearest railheads are Harpalpur (94 km) and Mahoba (63 km). Country buses and tongas take you to khajuraho. The Shatabdi Express from Delhi to Bhopal stops at Jhansi (172 km from khajuraho). Satna, 117 km away, is convenient for travelers from Mumbai (Bombay), Calcutta, and Varanasi. Taxis and buses are available from here.

By Road - Direct bus services connect khajuraho with Panna, Satna, Chattarpur, Jabalpur, Mahoba, Bhopal, Gwalior, and Indore. For local transport, cycle rickshaws, tongas, and taxis are available.

Best Time To Visit Khajuraho : -
Khajuraho's climate is quite extreme, with wide variation in day and night temperatures along with minimal rainfall. Summers are hot at 45°C and winters pleasant at 27°C. Rainfall of normally 114 cms annually. As summer is too hot, winter is a good time to visit. A good time to visit is March, when the annual Khajuraho Dance Festival takes place. So the best time to visit Khajuraho is from September to March.


Nearby Excursion from Khajuraho : -
Bandhavgarh National Park — Small national park famous for its high density of tigers.
Panna National Park — Again high dense forset to date with wild animal and big cats - tigers.
Orchha - A heritage site.