---
Hawa Mahal
---
Constructed in 1799, Hawa Mahal is the most sensational monument in the city of J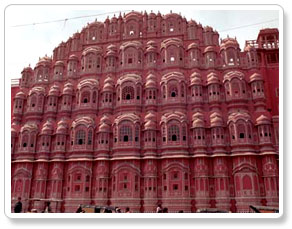 aipur. The palace, overlooks one of Jaipur's main streets and was originally constructed to offer women of the court an upper hand, so that they can watch the activities taking place in the bazaar and the surrounding streets behind stone-carved screens. For this purpose, it was designed with over 900 niches, and the entire building is shaped like a crown adorning Lord Krishna's head.
The site offers superb views of the city, including the many old palaces and houses which were painted ocher-pink for the 1853 visit of Prince Albert. This five story, pyramid-shaped structure is made up of small casements, each with tiny windows and arched roofs, beautifully modeled and carved. There is a total lack of ornamentation on the inner face of the building. The chambers are plain and more mass of pillars and passages leading to the top storey.
Hawa Mahal Jaipur is also popular as " Palace of Winds" and it is designed by Lal Chand Usta and this name of the palace is given because Hawa Mahal has about 953 windows through which wind or (hawa) flows and keep the palace cool.