---
Sikandra Tomb
---
Welcome to Sikandra, a s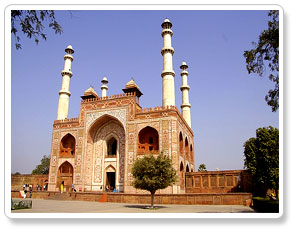 upurb of Agra, only 13 km. from the Agra Fort, the last resting place of the Mughal emperor Akbar. Akbar was the greatest of the Mughal emperrors and one of the most secular minded royalties of his time. He was the heir to a long tradition of oriental refinement, a great patron of the arts, literature, philosophy and science.
A visit to Akbar's monument opens before one, the completeness of Akbar's personality as completely as the Taj Mahal does of Mumtaz Mahal's. Akbar's vast, beautifully carved, red-ochre sandstone tomb is set amidst a lush garden. Akbar himself planned his own tomb and selected a suitable site for it. To construct a tomb in one's lifetime was a Tartary custom which the Mughals followed religiously. Akbar's son Jahangir completed the construction of this pyramidal tomb in 1613.
One can visit Sikandra Tomb when they are travelling by car / cab because it is on Delhi Agra highway and 13 Kms. from Agra. If they are travelling by train / flight they can arrange cab / car for sikandra tomb tours from Agra.
Best time to visit Sikandra Tomb is between August to March.