---
Agra Fort
---
Agra Fort is also known as Red Fort of Agra. Agra fort is bult by Great Mughal emperror Akbar in 1565. Agra fort is one of the finest world heritage site in india. It is main tourist attractions of Agra city.
Main sightseeing attractions in agra fort are Anguri Bagh, Moti Masjid, Khas Mahal, Musamman B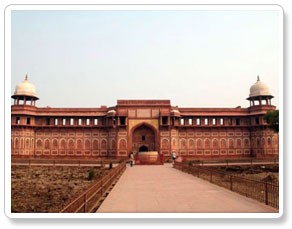 urj (where Shah Jehan was imprisoned in his last days by his son Aurangzeb to allow him the views of Taj Mahal), Mina Masjid and Shish Mahal. Showcasing finest examples of fusion architecture of Mughal era, Agra Fort houses Jehangir Palace with clever blend of Persian and local styles as well as Diwan-e-Aam with subtle Turkish exteriors and convoluted Persian ornamentations. Other featured buildings of the fort that are magnificent in their own distinctive styles include Diwan-e-Khas,
Lofty battlements to guard mansions and palaces of nobles and princes on the riverfront; and magnificent arched gateways amidst towers, ramparts and bastions are main highlights of Agra Fort.With double walls that are 20 meters high and 2.5 km in circumference, Agra Fort was a strong fortress further protected by a surrounding moat that used to be full of ferocious crocodiles.

Timings & Entry Fees
» Foreigners: Rs 520/-
» Indians: INR Rs 20/-
» Open on all Days