---
Bangla Sahib
---
Gurdwara Bangla Sahib is an important historical and religious p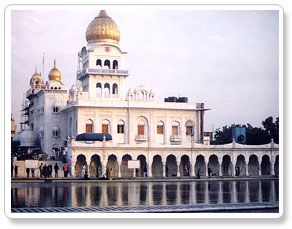 lace in India. Dedicated to the eighth Sikh Guru, Sri Harkishen Sahib, it is situated near Connaught Place Market in New Delhi. Its main hall is kept simple, except for the open central shrine, covered by a small golden dome sporting a sculpted bronze cupola. Devotional music is relayed throughout the complex continuously. There is a higher secondary school, Baba Baghel Singh Museum, a library and a hospital in the Gurdwara complex. Holy water of Bangla Sahib Gurudwara, known as 'Amrit, is said to have miraculous powers of curing the sick.

Gurdwara Bangla Sahib speaks the story of Baba Ram Rai, the elder brother of Guruji who tried in vain to influence the Sikhs of Delhi and Punjab. Later he went to Emperor Aurangzeb to secure the Gurugadi. Aurangzeb decided to summon Guru Harkrishan. The Rajput chief Raja Jai Singh took over the responsibility.

The Art Gallery present in the basement of the Gurdwara Bangla Sahib is worth seeing. They exhibit the paintings depicting historical events related with the Sikh history. The gallery is named after the Sikh General Sardar Bhagel Singh .

According to the legend related to this Gurdwara, the seat of Guru Sahib was disputed and Ram Rai, brother of Harkishen, sought the help of Aurungzeb. Aurungzeb called Guru Harkishen to Delhi, where he was entertained royally by Mirza Raja Jai Singh in his own palace, along with Diwan Dargah Mull, Bhai Gurditta Ji, Bhai Mati Das Ji and the mother of the Guruji. Later, this fabulous mansion was converted into a Gurdwara in the memory of the Guru Sahib and was called as Gurdwara Bangla Sahib. This shrine has also had the honor of hosting sixth Guru Sri Hargobind Sahib, on his arrival in Delhi.