---
Birla Temple
---
The Lakshmi Narayan Temple or the Birla Temple as it is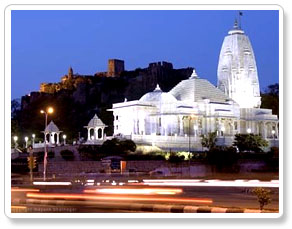 popularly known enshrines Lord Vishnu – the preserver of the Hindu Trinity. The Temple is one of the major attractions of the capital city - Delhi.

Built in 1938, famous Birla Mandir in Delhi was inaugurated by Mahatma Gandhi (Father of the Indian Nation) on the express condition that people of all castes and especially untouchables would be allowed in. (Refer to section People). Consequently a plaque at the gate reiterates that people of all faiths and classes are welcome. Till date, it remains one of the most popular temples in Delhi.

To the north of the New Delhi Laxmi Narain Temple is the Geeta Bhawan, devoted to Lord Krishna. There is also a Buddha temple in this temple complex, adorned with murals describing his life and work. All the statues in the temple are made up of marble and were brought from Jaipur. Miniature rock temples, which dot the temple, hold a special attraction for the children. The splendor of the temple is enhanced by an artificial landscape in the back, with mountains and cascading waterfalls. The festival of Janmashtami, the birth anniversary of Lord Krishna, lends an enhanced significance to the temple.