---
India Gate
---
India Gate is constructed as a memorial and was built in the memory of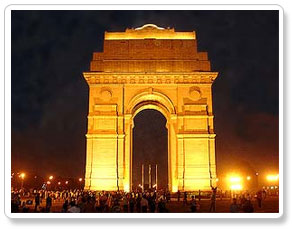 90,00 soldiers who laid down their lives during world war I. Located at Rajpath, India Gate is 42 m high and is popular relaxation area during the summer evenings. India Gate also act as popular pinic spot during winter. Also known as the All India War Memorial, India Gate was designed and constructed by Lutyens. He was the who is considered the chief proclaimer in designing the New Delhi plans
Located on Rajpath, the road which leads to the magnificent Rashtrapati Bhawan, the gate is 160 feet high with an arch of 138 feet.The monument was dedicated to the nation 10 years later by the then Viceroy, Lord Irwin.
Built from sandstone, the arch also houses the Eternal Flame, a gesture in memory of the Indian soldiers who laid their lives in the 1971 war with Pakistan. A memoir of the soldiers who laid their lives at the North-West Frontier operations of the same time and the 1919 Afghan Fiasco. On the walls of the structure are inscribed the names of all the soldiers. This eternal flame called Amar Jawan Jyoti that runs on gas was lit in 1971 to honour the martyrs has been kept alive since then. During the night, it is intensely floodlit and the fountains nearby are lit up with coloured lights.Close by is the canopy which once became controversial and under whose red sandstone roof was the marble statue of King George V which has been shifted from there. The canopy was also designed and built by Lutyens.
The entire arch stands on a low base of red Bharatpur stone and rises in stages to a huge molding, beneath, which are inscribed Imperial sons. Above on both sides is inscribed India, flanked by MCM and to the right, XIX. The shallow domed bowl at the top was intended to be filled with burning oil on anniversaries but this is rarely done.