---
Amber Fort
---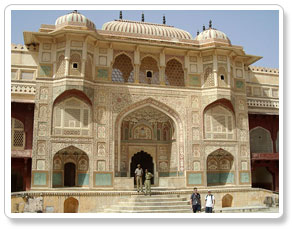 Amber Fort is located in Amber (Jaipur), which used to be the capital of the Kachhwaha clan, till Jaipur was made the official capital in 1727. The Amber Fort looks stunning, all-built in white marble and red sandstone. To add to its charm, Maotha Lake makes its foreground. The crystal mirror image of the Fort, on the still waters of the lake, seems to be a beautiful illusion. Amber Fort is usually pronounced as Amer Fort. In 1592, construction of the Fort was started by Raja Man Singh I. However, the Amber Fort took its present form during the reign of Raja Jai Singh I.
Just 11 kms from Jaipur, Amber fort is a splendid fort constructed in a scenic locale. Being a perfect blend of Hindu and Muslim architecture, Jaipur attracts travellers from around the globe. Built in 16 the century by Raja Man Singh, the fort stands as a proud reminder of the exotic building skills of the artisans of the yesteryears. This fort from yore days unfurls the legacies of the time when the august rulers imagined the unmatched craftmanship.
Kali Temple, which is also known as Shila Devi Temple, forms the part of the Fort. It is renowned for its glorious past, huge silver lions and silver doors. The Hall of Public Audiences, Diwan-I-Aam is a pavilion with double row of columns. Ganesh Pol, another feature of the Fort, directs the way to the inhabited apartments of the King. The Hall of Victory, Jai Mandir has a stunning ceiling comprised of mirror work and an inlaid panel. The Fort has numerous other halls and pavilions with their own specific attraction.
The fort has 4 sections, each with the premises, and one has to climb up through the imposing stairway or else the broad aisle, where one can ride on the elephant back for royal feel. The Surajpol (main gate), leads to the Jaleb chowk, (the main courtyard from where one can walk up the stairway), which leads to the palace. Jaleb Chowk was also the area where returning armies were welcome and they would display their war earnings to the population at large.