Agra Taj Mahal Tours

Delhi Agra Jaipur Pushkar Camel Fair

Delhi Agra Jaipur Tour

Delhi Agra Jaipur Varanasi Tours

Golden Triangle Camel Safari Tours

Golden Triangle Corbett Tiger Tours

Golden Triangle Kerala Backwater

Golden Triangle North India Heritage

Golden Triangle Rajasthan Cultural

Attraction in Agra
»
Itmad Uldaula
»
Sikandra Tomb
»
Taj Mahal Agra

Attraction in Jaipur
»
City Palace
»
Hawa Mahal
»
Jantar Mantar

Attraction in Delhi
»
Jama Mosque
»
Jantar Mantar
»
Red Fort
---
Bundi Tourism
Bundi is small but exceptionally unique town of Rajasthan. It's famous for its magnificent fort, beautiful palaces, havelis (mansions), chattris (cenotaphs) with carved pillars, and amazing baoris (step-wells). Bundi is also world-renowned for its miniature paintings. Explore Bundi with India Travel Portal to experience this fascinating town of Rajasthan at its best. There are a number of enchanting tourist attractions in Bundi, which you can see on Bundi tour.
What to See in Bundi ( Tourist Attractions Of Bundi )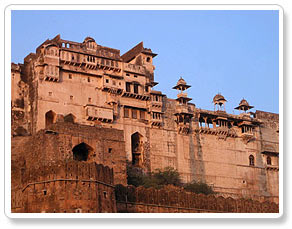 Taragarh Fort :
Taragarh Fort (Star Fort) is the major tourist attraction in Bundi. One of the most magnificent forts of Rajasthan, Taragarh Fort was built in 1354 AD. Perched on a thickly wooded hill, Taragarh Fort offers a spectacular view of the town. The Fort also houses a huge reservoir, which was built to supply water to the nearby Bundi palace.
Bundi Palace :
Bundi Palace is another not to be missed attraction in Bundi. Nestled on a hill adjacent to the Taragarh Fort, the Bundi Palace offers a good example of the Rajput architecture. Visitors can see some of the superb Bundi murals in the Palace.
Chhattar Mahal :
Chhattar Mahal or the 'Palace of Towers' is another attraction in Bundi, famous for its miniature style murals. There are many interesting structures inside the palace complex including the Hazari Pol or Gate of the Thousand, the Naubat Khana, Diwan-i- Aam and the Hathi Pol (Elephant gate) with its old Water Clock.
Ratan Daulat :
Also called Diwan-e-Aam, it was a royal court, built in such manner that it forms stables for nine horses and elephants. A very attractive structure, it was built by Rao Raja Ratan Singh.
84 Pillared Cenotaph:
Eight Four Pillared Cenotaph is yet another architectural marvel that you should not miss on your tour to Bundi.
Nawal Sagar :
It is a beautiful and square shaped artificial lake located in the heart of Bundi. The lake has a half submerged shrine dedicated to Lord Varuna. The Lake offers a breathtaking reflection of the town and the palace in the evening, indeed an unforgettable experience for viewers.
Chitrashala :
Chitrashala is a fascinating pavilion with frescoes showcasing the famous art of the Bundi School of miniature paintings. These fresco paintings on the walls depict scenes from the Ragmala and Raaslila, the epic story from the life of Radha and Krishna.
Raniji-ki-Baori :
The Raniji-ki-Baori (step-well) is another must visit on your tours to Bundi. It is a 46 meters deep step-well with some exquisitely carved pillars and a high arched gate. Built in 1699 AD by a princess Rani Nathavatji, the step-well is one of the largest of its kind and Rajasthan.
Other not to be missed tourist attractions in Bundi include Sukh Mahal, Phool Sagar Palace, and Shikar Burj
Things to Do in Bundi
Besides local sightseeing tours, one can enjoy many more exciting activities on Bundi tour. Enjoy excursion to Menal to see a 122 m deep and hollow gorge and a temple complex with beautiful carvings, Dugari Fort, and Indragarh Fort (65 km from Bundi). Dugari and Indragarh are also famous for wall paintings. Bundi becomes alive during the Teej Festival. A tour to Bundi during Teej Festival would surely be a unique and unforgettable experience for visitors. On tours to Bundi, you can also shop for cotton carpets, famous Kota paintings and Kota doria sarees, stone statues, wooden toys and lac bangles.