Agra Taj Mahal Tours

Delhi Agra Jaipur Pushkar Camel Fair

Delhi Agra Jaipur Tour

Delhi Agra Jaipur Varanasi Tours

Golden Triangle Camel Safari Tours

Golden Triangle Corbett Tiger Tours

Golden Triangle Kerala Backwater

Golden Triangle North India Heritage

Golden Triangle Rajasthan Cultural

Attraction in Agra
»
Itmad Uldaula
»
Sikandra Tomb
»
Taj Mahal Agra

Attraction in Jaipur
»
City Palace
»
Hawa Mahal
»
Jantar Mantar

Attraction in Delhi
»
Jama Mosque
»
Jantar Mantar
»
Red Fort
---
Jaisalmer Travel Trip
---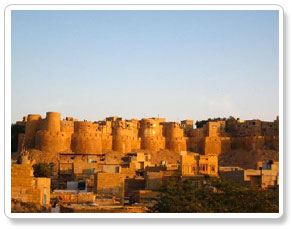 Deep in the heart of the Thar Desert is Jaisalmer, one of the last princely bastions in the region. Founded on what was the crossroad of lucrative trade routes, this remote settlement came to be celebrated for the valour of its rulers, and for the aesthetic sense represented by their palaces and havelis. The rich merchants engaged stone-craftsmen who worked with great diligence on the sandstone mansions they built, filling up facades with sculptural filigree, screen windows, delicate pavilions and beautiful balconies. These veritable art-museums are still inhabited, and their colourful celebrations and festivals have placed Jaisalmer firmly on the world tourism map. It's unique location in the midst of miles of sand dunes makes it India's most popular destination for camel safaris.
Lets Explore ... the romantic sand city of Jaisalmer :

On your tour to Jaisalmer you can visit the famous Jaisalmer Fort, which is the second oldest fort in Rajasthan after Chittaur, and commands the desertscape from its 250 feet high pedestal on the Trikuta Hill. Three strong walls protect the citadel. The fort has five palaces called Sarvottam Vilas, Akhai Vilas, Gaj Mahal, Rang Mahal and Moti Mahal. Jali or latticework screens of excellent craftsmanship shade interiors from the fierce heat and desert winds. The Rang Mahal has some exquisite murals painted on arches and spandrels. The fort contains one-third of the city's population. Many houses provide budget accommodation to visitors and have curio shops. Jaisalmer cultural heritage takes you to the popular Jain Temples of Jaisalmer. Three exquisitely sculptured Jain temples dedicated to Rishabhdevji, Sambhavanathji and the Ashthapadi temple are located within the fort. Their ornamentation, done in the style of the Dilwara temples at Mt. Abu, is marvelous. The emerald icon of Mahavira here is an unparalleled gem.
A trip to Jaisalmer is incomplete without a visit to the most panoramic Dunes of Sam, where the wind is unceasingly carving out scenic patterns on this desert Sand. Truly the essence of the desert, the ripples of the Dunes create a enchanting mirage. By visiting the Sam Sand dunes, it is possible to get an insight into desert life from Jaisalmer itself! Camel rides on the sand dunes are a thrilling experience, as is the brilliant sunset.
How To Reach Jaisalmer
» By Air -
During the peak tourist season, Jaisalmer is expected to be connected by air to Delhi, Udaipur & Jaipur. Alternatively, Jodhpur airport (290 kms) serves as a convenient gateway for Jaisalmer.
» By Rail -
Jaisalmer is connected to Jodhpur by day as well as overnight trains. There is also an overnight service from Jaipur, suitable for budget travellers only.
» By Road -
It is well connected by good roads to Jodhpur (290 kms), Bikaner via Pokran (330 kms), and Barmer via Devikot (153 kms).
Best Time To Visit Jaisalmer : -
jaisalmer is famous for forts and havelis and its is surrounded by great that desert and its sand dunes. To enjoy holidays trip in Jaisalmer best time to visit is from Mid August to Mid April. Don't forget to visit in 2nd week of Feb during desert festival celebrations.