Agra Taj Mahal Tours

Delhi Agra Jaipur Pushkar Camel Fair

Delhi Agra Jaipur Tour

Delhi Agra Jaipur Varanasi Tours

Golden Triangle Camel Safari Tours

Golden Triangle Corbett Tiger Tours

Golden Triangle Kerala Backwater

Golden Triangle North India Heritage

Golden Triangle Rajasthan Cultural

Attraction in Agra
»
Itmad Uldaula
»
Sikandra Tomb
»
Taj Mahal Agra

Attraction in Jaipur
»
City Palace
»
Hawa Mahal
»
Jantar Mantar

Attraction in Delhi
»
Jama Mosque
»
Jantar Mantar
»
Red Fort
---
Pushkar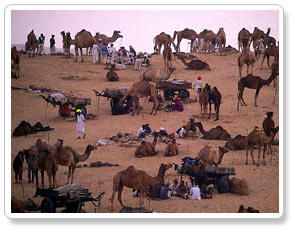 About Puhskar
Pushkar is a town in the Ajmer district in the state of Rajasthan, India. It is situated at 14 km North West from Ajmer. In recent years Pushkar has become a popular hub for foreign tourists to enjoy colourful camel festival during the Kartik Month.
Pushkar has many temples. Most of the temples are not very old, since many were destroyed during Muslim conquests in the area. Subsequently, the destroyed temples were re-built. The most famous among all is the Brahma Temple.
Best Time to Visit Pushkar
Pushkar is not only famous for Pushkar camel festivals and brahma temple but also it is famous for other cultural and heritage sites there. so best time to visit os from August to April
Attractions
Pushkar Fair
Nagaur Fair
Tejaji fair
Pushkar Fair :
Kartik Poornime - the particular full moon of November, for this is when the world famous camel fair takes place on the sand dunes surrounding the town. Thousands of traders come here with their families to trade in camels as well as meet up and negotiate marital ties. This famous festival is popular among the tourist from all over the globe.
Getting There
Air: The nearest airport from Pushkar is Sanganer Airport at Jaipur at distance of 146 km from Pushkar which is well connected with all the major cities which include Delhi, Mumbai, Kolkata, Indore, Jodhpur and Udaipur.
Rail: The nearest railway station from Pushkar is Ajmer, which is on the Broad Gauge and hence connected to the metro cities of India like New Delhi, Mumbai, Kolkata, Chennai, Hyderabad, Bengaluru, Ahmedabad, Indore, Kanpur, Lucknow, Patna, Bhopal, Trivandrum, Cochin etc. A Broad Gauge track is being laid from Ajmer to Pushkar.
Road: Pushkar is 11 km from main Ajmer bus stand. Rajasthan Roadways run very comfortable deluxe buses from Jaipur. There are buses from Jaipur to Ajmer, Indore, Nagda for every 15 minutes.