Agra Taj Mahal Tours

Delhi Agra Jaipur Pushkar Camel Fair

Delhi Agra Jaipur Tour

Delhi Agra Jaipur Varanasi Tours

Golden Triangle Camel Safari Tours

Golden Triangle Corbett Tiger Tours

Golden Triangle Kerala Backwater

Golden Triangle North India Heritage

Golden Triangle Rajasthan Cultural

Attraction in Agra
»
Itmad Uldaula
»
Sikandra Tomb
»
Taj Mahal Agra

Attraction in Jaipur
»
City Palace
»
Hawa Mahal
»
Jantar Mantar

Attraction in Delhi
»
Jama Mosque
»
Jantar Mantar
»
Red Fort
---
Varanasi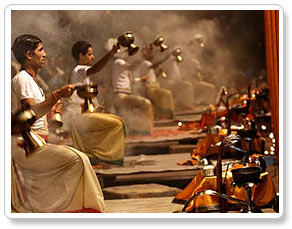 The city of Varanasi is situated along the west bank of the Ganges in the north Indian state of Uttar Pradesh. Called Benaras by the British, Varanasi is an important pilgrimage centre for the Hindus. The city finds mention in the great epics of Mahabharata and Ramayana. Ghats of Ganga are perhaps the holiest spots of Varanasi. The Ganga Ghats at Varanasi are full of pilgrims who flock to the place to take a dip in the holy Ganges, which is believed to absolve one from all sins. There are number of temples on the bank of the Ganga river in Varanasi. It is believed that people are cleansed physically, mentally and spiritually at Ganga Ghats. It is at the Ganga Ghats where we see life and death together.

Attractions in Varanasi
In this ancient city of pilgrimage, the bathing Ghats is main attraction. People flock here in large numbers every day to take bath and worship in the temples built beside the riverbank. Centuries old tradition to offer puja to the rising Sun is still maintained.

Festivals
Varanasi is the most popular pilgrimage place for the Hindus. The rich cultural heritage and tradition of Varanasi makes it the cultural capital of India. For ages, Varanasi has been a center of learning of Indian philosophy, spiritualism, mysticism and other branches of education. Varanasi is essentially a melting pot of Indian culture. In Hindu religion, it is believed that one, who dies and is cremated at Varanasi, gets an instant gateway to liberation from the cycle of births and re-births. Being associated with Hindu traditions and religion, Varanasi is home to numerous temples, muths and Ashrams. One can come and enjoy the festive season of Varanasi anytime of the year.

Best Time to Visit Varanasi
Best time to visit in the month of October-March

Getting There
By Air: Varanasi is well-connected and accessible to major Indian cities and tourist spots. There are daily domestic flights to and from Varanasi to several cities in India. Apart from the state owned Indian Airlines, there are many private air taxi operators that offer their services from Varanasi to other Indian cities.

By Rail: There are two railway stations in Varanasi, the Kashi Junction and the Varanasi Junction (also known as Varanasi Cantonment). Rajdhani Express from Delhi or from Calcutta passes through Varanasi too. One can also catch trains from Mughalsarai, just 10 km south of Varanasi.

BY Road: Situated in the flat Ganga plains, Varanasi has a good network of roads.

Accommodation
Most of the Varanasi city is well equipped with the most exclusive and sophisticated hotel accommodation. There are tourist lodges, mid-range and Dharamshalas also available at reasonable prices.

Shopping
Varanasi is famous for the handicraft items and also Silk Sarees for Women.