---
Bharatpur Bird Sanctuary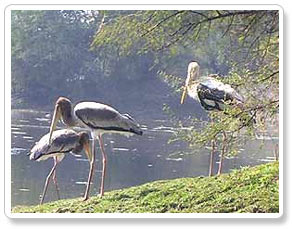 Bharatpur Bird Sanctuary commonly known as Keoladeo Ghana National Park is one of the finest bird sanctuary in the world. The Bharatpur Bird Sanctuary was established in 1956 in Bharatpur. The Bharatpur Bird Sanctuary is the famous and easily accessible bird sanctuary in India. This sanctuary is one of the world's best bird sanctuaries and the largest bird sanctuary in Asia. The sanctuary is a quiet and serene place to watch rare Indian and foreign birds. The area was

Th bird watchers paradise is in north-eastern Rajasthan near the UP boarder, within the golden triangle of Agra, Delhi & Jaipur, 38 Kms. from Mathura.
Every year this sanctuary is visited by over 400 species of water birds including the exotic migratory birds from Central Asia, Afghanistan, and Tibet and the rare Siberian cranes from Siberia. During the winters, various migratory birds come here all the way from Siberia and Russia,i ncluding the rare Siberian crane, herons, ibis, pelicans, egrets, Brahminy ducks and geese.

Bharatpur Bird Sanctuary at a Glance
Tourist make a beeline for Bharatpur in winter when the Keoladeo Ghana Bird Sanctuary is full of exotic, foreign winged visitors who migrate here from across the globe. The season too have their own attractions.

Best Time To Visit Bharatpur Bird Sanctuary
Spring is the time for visit in Bird Sanctuary. Noverber to March is the best time when migrated birds are present during the time, in addition to the resident species.

Accommodation In Bharatpur Bird Sanctuary
Lots of tourist places are their to stay, RTDC tourist reception centre is at Agra Road, Bharatpur. & other private tourist guest hiuses and hotels are also there.