---
Corbett Wildlife Safari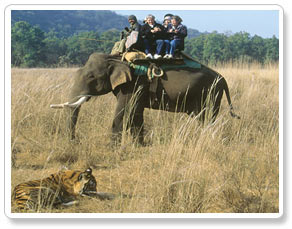 Elephant Safari
Jeep and cantar safari is also available but take an exclusive safari on the elephant back through the lush trails of famous Corbett Tiger Reserve. It is India's first and perhaps the finest Tiger Reserve. Set beautifully in the foothills of mighty Himalayas, Corbett Tiger Reserve is spread over in the area of 1200 square km. The park has the surroundings of dense Sal forests and hilly ravines, which makes the whole tour all the more exciting. Elephant Safari in Corbett National Park is the best combination of multiple ways to take the tour of wildlife. The main attraction of the tour is to ride on the pachyderm for the whole week. The Elephant Safari begins from north east periphery of the Corbett tiger reserve from Durgadevi gate. It will continue along with the north boundary and end up at Halduparao on the north-west boundary of the park. Apart from traveling on the back of elephant, your safari will include multiple exciting activities. They will be game drives in the Corbett national park, bird watching tours, village visits, visits to tribes in nearby area, learning how to ride on elephant to name a few of exciting activities. Your journey at the elephant back will begin as you will enter the Ramganga valley. Onwards crossing the Mandal valley, it will cover some of the varied tracks of forest. The journey will end in the gorgeous forest rest house at Halduparao in Palain Valley.
Wild Species in Corbett : -
The wildlife that you will see from the elephant back would also differ as you will go through different terrains. You will be able to see some mammal species such as Elephant, Barking deer, Spotted deer, Ghoral, Sambar, Rhesus monkey, Wild boar, Jackal, Porcupine, Langur, Civets and more.
The Rare animals that you will see on your elephant safari ones comprise of Leopard, Bengal Tiger, Cats, Sloth Hog, Deer and Himalayan black bear. The Gharial, Mugger or fresh water crocodile, turtles, Otters and a great range of fishes like, Goonch, Mahseer, Trout, etc. are seen in and around Ram Ganga River. The reptile species comprising of King Cobra, Monitor Lizard, Python and more.
The airborne species, the mystic wildlife and the charming valley make a beautiful blend together and offer you a romance setting unheard, unseen and untold before. Corbett Tiger Reserve is also a bird watching paradise. Its Avian attractions include great breeds of Hornbills Parakeets, Woodpeckers, Kingfishers, Shrikes, Barbets, Minivets, Partridge, Drongos, Storks and many other beautiful birds.
Best Time To Visit Corbett Wildlife Reserve
- November to April