---
Sariska Wildlife Santary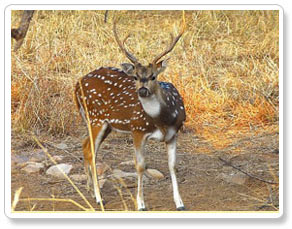 Sariska Tiger Reserve lies in the Alwar district of the Rajasthan state of India. It is prime tiger country. The forest is typical dry deciduous, dramatically changing with the change in season. The terrain is undulating plateau lands and wide
valleys.
Besides tiger, herbivores, spotted deer, sambar, blue bull can be commonly seen and found in good density.
Location of sariska National Park :
In the Alwar district in the eastern pocket of Rajasthan. Nearest airport is at Jaipur, 108km (67 miles) from Sariska; Alwar is near" est railhead, 21km (13 miles) away.
Climate of sariska National Park
: Summer months extremely hot and dry (maximum 47°C; 116°F). Winter more palatable at a maximum of 31°C (89°F), mini" mum 3°C (37°F). Monsoon brings heavy rain from July to September.
When to go (sariska National Park) :
The best time to visit is between October and June. Summer, between April and June, although very hot makes observing wildlife much easier as animals are drawn to the waterholes.
Getting to sariska National Park :
The principal town is Alwar (34km, or 21 miles, from the park), a four-hour drive from Delhi and a three-hour drive from Jaipur. Buses run to the reserve from Delhi, Jaipur and Alwar. Cars and jeeps available for hire.
Facilities at sariska National Park
: All types of accommodation available at Alwar and Sariska park. Upmarket Sariska Palace on highway just opposite entry gate to Sariska is run by former princely family (Heritage Hotel). At Siliserh, privately owned Lake Palace is a delight for visitors. The RTDC-run Tiger Den lodge is basic.
Wildlife in sariska National Park :
Semi-desert-type animals: Tiger, Striped Hyena, Jungle Cat, civet species, Sambhar, Nilgai, Chausingha. The best hours to view wildlife in the sanctuary are around 06:30 and 16:00.
Permits and Reservations for sariska National Park :
For information, contact : Field Director, Sariska National Park and Tiger Reserve, Alwar District, Rajasthan.
Conservation History
Sariska Tiger Reserve was created in 1978. The present area of the Reserve is 866 sq. km.
In the pre-independence period the forests within the Reserve were a part of the erstwhile Alwar State and maintained as hunting preserve for the royalty. After independence, these were first notified as a reserve wherein it was unlawful to hunt, shoot, net, trap, snare, capture or kill any kind of wild animals in 1955. The reserve was upgraded to a Sanctuary in 1958. Later on, in view of the preservation of wild animals in a better way few forest areas contiguous to the Sanctuary were also incorporated.
The primary notification to declare part of the core as National Park was issued in 1982. Final notification is pending in view of need of relocation of few villages from the Park.