---
Sundarbans Bengal Tiger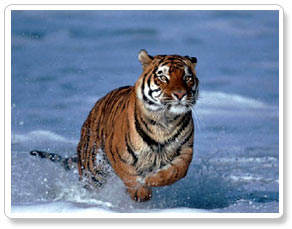 Sundarbans in West Bengal is the estuarine phase of the Ganges as well as Brahmaputra river systems. This littoral forest is the only ecological habitat of the tiger of its kind not only in India but also in the world except in Bangladesh. T
he typical littoral forests of Sundarbans comprises of a host of trees species adopted to the peculiar estuarine condition of high salinity, lack of soil erosion and daily inundation by high tides. The tidal forms and the mangrove vegetation in Sundarban are responsible for dynamic eco-system vigorous nutrient cycling both terrestrial and aquatic. The whole eco-system is sensitive to changes in salinity and the continuous cycle of erosion and deposition is affecting the plant communities giving rise to dynamic floristic changes. The plant communities are continuously adjusting to the new conditions.
Sundarbans Tiger Reserve provides characteristic type of habitat suitable for animals inhabiting vast tidal swamp area. Because of their intimate association with the estuarine environment, sizeable portion of aquatic and semi-aquatic animal communities are inter-related with the animals inhabiting the land areas. The uniqueness of the habitat is said to have contributed to certain behavioral trends, which are characteristic of Sundarbans tigers only. It is considered that man-eating propensity of tiger in this area is hereditarily acquired over a period of generations in the process of consumption of saline water.
Cheetal, wild boar, rhesus macaque are the main prey species of tiger. Aquatic animals like the crabs and fishes are also eaten by Sundarban tiger which occupies the pinnacle of both terrestrial as well as aquatic food-web.
Sundarbans mangrove is the home of a number of endangered and globally threatened species. The Bengal Tiger and the fishing cat are getting effective protection here. The creeks of Sundarbans form the home of Estuarine Crocodile, Salvator Lizard (Water Monitor), River Terrapin and Horse Shoe or King Crab. This area serves as the nesting ground for endangered marine turtles like Olive Ridley, Green Turtle and Hawk's Bill Turtles. The aquatic endangered mammals like Genetic Dolphins thrive within mangrove creeks close to sea. Number of heronries form here during monsoon as well as during winter. It is home for Trans-Himalayan migratory birds.


Location of sunderbans National Park
: In the Ganges deltaic region of eastern West Bengal. The nearest airport is in Calcutta, 112km(70miles) from the Sunderbans. The nearest town is Gosaba, 50km(30miles)away. There is a railhead at Canning.
Climate of sunderbans National Park :
Summer is very humid (35oC; 950C) in December to February, while winter months are cool (150C; 590F)

When to go (sunderbans National Park ) :
October to February is the best time to visit.
Getting to sunderbans National Park :
There are several gateways to the Sunderbans : Canning is 48km (30 miles) from Calcutta and is well-connected by trains and buses; Basanti is 11 Okm (68 miles) from Calcutta and is connected by buses. Boats to Sajnekhali trom Canning or Sonakhali.
Facilities atsunderbans National Park
: Permission to enter the park by boat should be obtained from the Project Tiger office, Canning. Guides are provided at Sajnekhali Tourist Centre. Accommodation available in the tourist lodge (raised on concrete pillars) at Sajnekhali.
Wildlife in sunderbans National Park :
Different deer species, Estuarine (Saltwater) Crocodile and Gangetic Dolphin. Abundant seaand waterbirds
Precautions :
The use of mosquito repellent creams and mosquito coils is advised.
Permits and Reservations for sunderbans National Park :
For accommodation, contact : The Field Director, Sunderbans Tiger Reserve, PO Canning, South 24 Parganas District, West Bengal.
Conservation History
The Sundarbans Tiger Reserve, created in 1973, was the part of the then 24-Pargans Division. Subsequently the area comprising of the present tiger reserve was constituted as Reserve Forest in 1978. The total area of the Sunderbans is 9630 sq. km. out of which 4264 sq. km. bears mangrove forest. The area of the Reserve is 2585 sq. km. covering land area of 1600 sq. km. and water body over 985 sq. km.
Within this area 1330.12 sq. km. is designated as core area, which was subsequently declared as Sundarban National Park in 1984. An area of 124.40 sq. km. within the core area is preserved as primitive zone to act as gene pool.